Parkholme or Englorie Park

Parkholme, a Victorian dwelling, has been known by a number of names including Euglorie and Englorie. The property still stands and today is a childcare centre. Before being converted to the childcare centre it was owned by Macarthur Development Board, in their publication it states; "The home consists of a main block of four rooms surrounded by a wooden veranda with cast iron trim, and a ballroom wing comprising one large room and an alcove and a veranda".
Parkholme was one of the farms owned by Samuel Terry. Until 1875 it was tenanted. In 1873 Terry's daughter, Esther Hughes, died and in 1875 Terry sold it to William Nunn Patrick who in turn sold it in 1879 to Alfred Leath Park and in the following year he built the new home.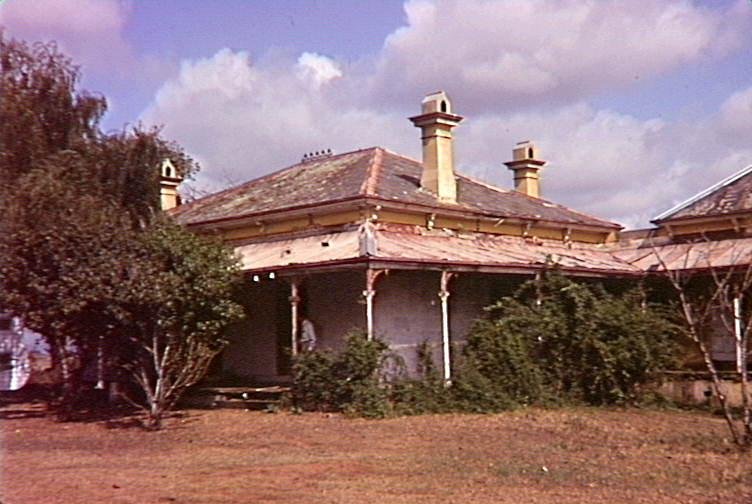 In 1881 Parkholme was described as one of the "prettiest villas" near Campbelltown and being about one mile from the town on the property of Mr A L Park – a well-known gentleman in coursing circles throughout the colony. The house was sited on a "pleasant knoll" and was protected by a belt of timber on the top of the ridge. This position gave very picturesque views of the countryside.

The one and a half story original residence/farm building was constructed of random stone walls both interior and exterior, set in lime mortar and whitewashed. It had three rooms with one end room having a loft over. The original floor was rammed earth.
The home was built of brick and stone with a slate roof. It contained seven rooms (besides a kitchen and bathroom), that were very commodious.
The drawing room, hall and dining room were very spacious. The internal fixtures were stained maple and parti-colours. The drawing room and hall were picked out with neutral tints while the dining room was of flush pink. The other rooms were coloured in straw tones. French casements and verandas were all around the home. The front door was fitted with side lights and a fanlight bearing the monogram of Mr Park.

There was a tank that when full could contain 21,000 gallons. It was fitted with a pump and water was available all over the house. At this stage it was also planned to connect gas to every room. The architect overseeing the project was Mr Fitzpatrick of Sydney and the builders were J and H Vernon, brothers of Walker Street, Redfern.

Also on the property was a four-stalled brick stable with a coach-house and harness room. The stable floor was paved with wooden blocks. A spacious loft ran the length of the building. In front of this 40 ft building was a pigeon box that could accommodate 700 birds. About 200 yards from the stable was a kennel for Mr Park's greyhounds. The stable and kennel roofs were of shingles.

Mr Park kept on his property some fine pedigree Ayrshire cows. His Ayrshire bull won first prize at the Melbourne Exhibition. He also kept some fine horses on the property. There were also prize geese, ducks and fowls. However it was the greyhounds that were the very special animals and numbered about forty. About 70 acres of land was planted with oats and nearer to the house were fruit trees and ornamental trees. Henry Edward Vaughan became the owner of the property about 1892. In the following two years Vaughan was the Mayor of Campbelltown. He added a billiard room. He also had some dams built on the farm. Henry Vaughan carried on his father's business. His father, when he came to Australia, was a hatter but he established an employment bureau and set up as an auctioneer and house agent.
When Vaughan's business took him away from Campbelltown, he leased the property to Frederick Clissold and Thomas Cunningham who took up dairying. Vaughan died in 1901 and Frederick Lockyer Mitchell Merewether bought the property. Charles Burcher bought Parkholme from Merewether. Burcher came from Euglo Station at Condoblin. It was Burcher who changed the name of the property to Euglorie Park and it was there that he died in 1916. In the years since then the name of the property was frequently misspelt as Englorie Park, the name by which it has been known more recently.
This photo shows the ballroom wing of Englorie Park shortly before it became a childcare centre.
Photos: courtesy Marie Holmes, Verlie Fowler. Information from Marie Holmes and an issue of the Campbelltown Herald around 100 years ago.
JA White Sept. 2013