Campbelltown Station c 1916

By the early 1900s' Campbelltown had become a major supplier of dairy products to the Sydney market. The station was opened in May, 1858, the line was electrified in May, 1968, a part of Sydneys suburban rail system.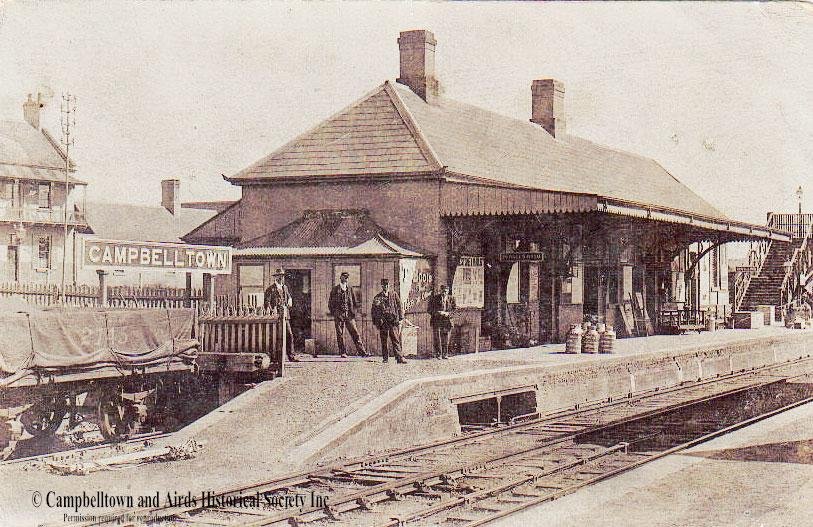 Queen Street, circa 1900

Queen Street looking north, The Town Hall on the left and retail stores and homes on the right. In the centre, on the horizon, you can just see Glenalvon, well, the roof at least. Gas street lights had arrived a few years before.
Glenalvon and Lithgow Street

Glenalvon, from a 1912 postcard. The street level is about 30 cm (1 ft) lower now and its paved, but a white fence is still in front. Parking is now limited to 2 hours along the kerb.
St Helens Park House

The veranda of St Helens Park House. The family photographed by Tom Swann in 1920.

Built on land granted to Samuel Larkin by Governor Lachlan Macquarie in 1816, St Helens Park House was completed in 1887. Gothic inspired late Victorian architecture makes an interesting building.

Further information on this historic home can be found in the societies book, "The Story of St Helens Park Campbelltown" based on a presentation by The Brooks Family, given at the 18th Ivor G. Thomas lecture, August 30th, 2008. This book is available through The Societies Shop.