The Early Years, The 1800's



William and Hanna (nee Smith) Bursill
Married at St Peters Church, Campbelltown New South Wales, Australia, 1834.


Agar Cottage, Airds

Image of a painting made in 1828. 'Ager cottage, Airds, Campbelltown New South Wales. The residence of John Scarr sketched by himself 1828. Extract of his letter which accompanied it dated January 1828: 'This is a view of my cottage, the figures occupying the front ground are Natives. They are a very correct representation of those surrounding the neighbourhood.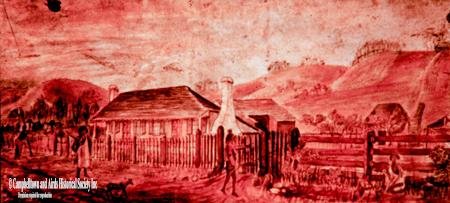 The man as you perceive has only a jacket on, and the attitude of walking is partly correct, what he has in his hands are spears, the female also walking, has a blanket tied round her, hanging over her shoulder, this is exactly the way they hang or tie their blankets on (when they have any). The gentleman who stands opposite to myself is making one of his politest bows, saying 'Got any coppers Master' – A female with her child you will perceive sitting under the fence. This attitude is also correct. The little house behind the black girl sitting down, is my Man's hut with a wooden chimney – My farm extends as far on one side as the four stacks of Wheat. House where my tenant lives.
Aboriginal Rock and Cave Painting

Rock and cave paintings by the Dharawal (or Tharawal) people, the traditional land owners in this region, were made well before European settlers arrived in Australia. These people were present in the southern Sydney and Illawarra regions when the colonists arrived in 1788. These photographs were made in the early 1900s' by local photographer P.C. Marlow. It is unfortunate that some of the paintings have been vandalised in recent years. The locations of these paintings are now known only to a few.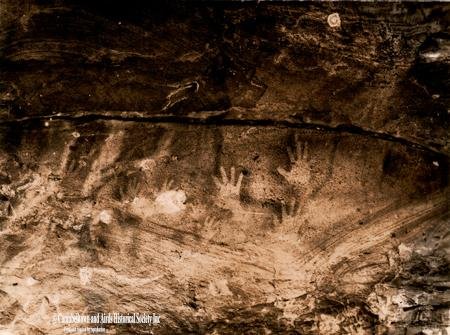 The Land and the River

The Campbelltown area sits between two river systems, the Georges and the Nepean with many tributaries feeding both. With water in reach, and the undulating hills of the area offering good pasture, it wasn't long before colonists moved into this region. The rivers made the topography difficult for settlers in some areas, as deep gorges formed steep sided approaches to the water. Only a few miles distant, plains often flooded making agriculture somewhat difficult not to mention heartbreaking. The areas Cumberland plain woodlands were cleared for farming and grazing, at times in history the hillsides looked almost bare and eroded. Today the area has regained most of the cover it once had, though not all of it native species, land management in the last century achieving many of its aims.